Race Info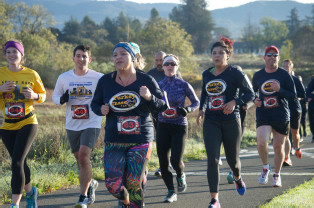 The Napa Valley Turkey Chase is a fun family event! Race, jog or walk this fast, paved course around the Napa Valley College and the Napa River Trail and work up your Thanksgiving appetite!
Thanksgiving Morning: 11/28/19
Kids 100m Turkey Dash: 7:50am (FREE! no prior registration required)
10K Start Time: 8:00am
5K Start Time: 8:15am

Location:
The start & finish line are located in lot J behind the Napa Valley College track. Lot J will also be the staging area for packet pick-up, day of race registration, booths and toilets. There is NO PARKING in lot J .

Napa Valley College is located at 2277 Napa Vallejo Hwy, Napa, CA
Registration Pricing and Timeline:
Registration Period
Adults / Youth
Groups of 4 or more
(per person)
Adults / Youth
10/05 thru 11/11/19:
$35 / $30
$30 / $25
11/12 thru 11/26/19:
$40 / $35
$35 / $30
11/27 and 11/28:
$45 / $40
n/a
Starting September 5th a group rate will be available: Save $5 per person when registering a group of 4 or more people at once! A group can be friends, family, coworkers, etc.
The event will take place rain or shine so be prepared for a cool morning that could be dry and clear or possibly wet.
If you would like a child under 8 years old to be timed, please contact Athletic Feat (dame@athleticfeat.com, or 707 258-6272), or you may register the child as an 8-year old, then contact Athletic Feat to have us change the child's age.

Race Course Information & Maps
The 10K course runs a counterclockwise loop around the college and then meets the Napa River Trail. Runners will go north to a turn around under the Imola bridge near mile 2. Then they will run south to Kennedy Park where the course makes a small counterclockwise loop near the skate park and then retraces the route back up the river trail. The 10K course then meets back up with the 5K by the baseball field and finishes back in lot J.
The 5K course runs the same counterclockwise loop part way around the college and then connects to the Napa River Trail. Runners will immediately proceed south past mile 2 and turn at the baseball field to head to the finish back in lot J. Both courses have been measured by wheel and GPS, but it is not a USATF certified course.
| | | |
| --- | --- | --- |
| 10K Map. Click for a larger view: | | 5K Map. Click for a larger view: |
SWAG!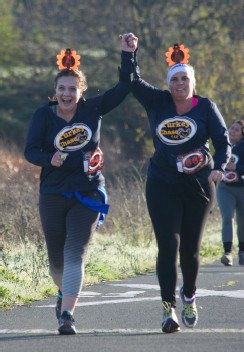 Long-sleeve technical shirts:
The first 1,300 registrants will receive a long-sleeve, technical Turkey Chase shirt. Sizes not guaranteed after 11/10 so sign up early! Shirts will be men's and women's cut (men's are crew neck, women's are V neck). Children's cotton T shirts will be available for purchase for $5, a fun option since 7 and younger run for free but may still want a shirt.
Finishers medal:
Every finisher will receive a custom commemorative Turkey Chase medal.
Early Packet Pick-up:
Packets will be available for pick-up from 10am to 6pm on Tuesday, November 26, and from 10am to 6pm on Wednesday, November 27 at Athletic Feat, 3367 Solano Ave, Napa 94558. Packets will also be available for pick-up on race morning from 7am-7:50am.
Race Morning Details:
Parking:
2277 Napa Vallejo Highway. Plan to arrive by 7:15am to avoid congestion at Napa Valley College. Plenty of parking will be available in the lots in front of the College (the east side, nearest the highway). Walk west through the college past the tennis courts toward the river. Lot J is just beyond the track.
There will be NO PARKING in lot J!!
Packet Pick-up:
Packets will be available for pick-up on race morning from 7am-7:50am
Chip Timing:
All registrants ages 8 and up will have disposable timing chips attached to the back of their race bib. Participants must wear their race bib on the front of their clothing. All finishers will appear in the overall results for both races.
Changes to your event:
If you would like to change your event (ex: switch from 5K to 10K) please either call Athletic Feat at (707) 258-6272 or arrive by 7:00 am on race day to notify timing and registration. Changes to your shirt size will be subject to availability.
Day of Race Registration:
In-person registration will be available adjacent to the start area on race morning from 7am-7:50am. Race shirt not guaranteed when registering morning of the event.
Kids 100 meter Turkey Dash:
Kids 7 years old and younger will have the opportunity to run a 100 meter race through the finish line. The kids race will be at 7:50am. No registration required. No results, just fun! Every participant in the kids dash will receive a prize.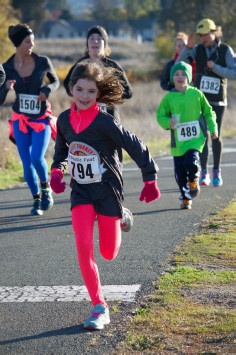 Results:
Race results will be live and searchable on the computers at the results tent immediately after the race. Race results will also be posted at napturkeychase.com. Age group results will be included. Male and female age groups: 8-12, 13-17, 18-29, 30-39, 40-49, 50-59,60-69, 70+
Race Photos:
Free race photos will be available on the Athletic Feat Facebook page shortly after the event.
Awards:
The top 3 overall men and women in both the 5K and 10K will receive a prize. In the past, prizes have included free running shoes, Athletic Feat gift cards, wine, tech shirts, gear and more! Age group awards will be given out to the top 3 in each age category for both genders in each race.
Shoe Recycling:
We recycle used running shoes. Please bring your old shoes into the store for recycling. (No holes, please! Think "gently used")
Toys 4 Tots:
In the giving spirit? Start Thanksgiving off right by donating a new toy to our Toys 4 Tots collection box at the race!
More Info:
Strollers will be allowed in both races. Dogs are not allowed to participate in either race.
More details will be coming as soon as they're available!